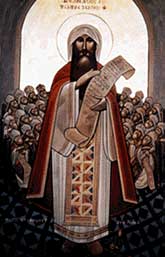 CATHOLIC BLOG MEME
Blogger won't let me title entries today for some reason, but
Athanasius contra mundo
at
50 Days After
tagged me with a meme to list my favorite blogs.
My confession; I use the links on what I think of as "friends and family" blogs to run through my list; there are so many good blogs, I can't read them all, but these have touched me in one way or another.
So from the links at
V-for Victory
I hit the links for Father R's
Orthometer
, Bill's
Is My Phylactery Showing?
and paramedicgirl's
Salve Regina
. From there, I jump to
Angela Messenger
. From there I'll check in on
The Crescat
and always
Mulier Fortis
, which leads me to Fr. Tim at
Hermeneutic of Continuity
, and then to Fr Z at
What Does the Prayer Really Say?
. From there I'll check
RORATE CÆLI
, and
The New Liturgical Movement
. depending on mood, if serious, I'll drop in on
Disputations
, if not,
The Curt Jester
; for soothing, The Roving Medievalist (?), and round it out (?) with
The Lair of the Catholic Cavemen
and
Simon-Peter Says
. Somewhere in all this I usually peek in on
Overheard in the Sacristy
as well.
I'm also delighted to find two more Idaho Catholic bloggers,
Athanasius contra mundo
and
Idaho Catholic
, so now I have a bit more to be peeking in on!
---
/edit/ July 11, 2007
I forgot to tag anyone with this meme, so if your conscience tells you that you have been tagged, obey!
Also, greetings to my neighbor,
Desert Dreamer
, at
A country girl's journal
. Please consider visiting next weekend during the retreat!
---
update 7/13
Two more Idaho bloggers!
Into the Deep
(of course,
Mike
!)
and
Truth to power
by
Briana LeClaire
Thanks Abe!